Masterclass Permanent Makeup Training Classes
Sign up today with a registered US Master-Certified Specialist Practitioner and become confident to offer your clients gorgeous designer Eyeliners, brilliant Microstroke Eyebrows technique delivering crisp, realistic hairline eyebrows, or stunning elegant full lips!
Learn how to perfect your procedures and significantly increase your income generation today by attending comprehensive hands-on training offered both locally and internationally.
Gwendoline Johnston owns Permanent Makeup by Gwendoline and practices as a Permanent Makeup Specialist at her studios in Johannesburg.  Gwendoline attained her AIIC Masters-Certification in October 2013.  She has kept fully up to date with ongoing study in the latest techniques and trends, obtaining certificates  and diplomas both locally in South Africa and internationally – attending Advanced Permanent Makeup training seminars, master classes, conferences and workshops.
Gwendoline's vast experience attained over the past twenty years, together with a thorough understanding of skin and colour, has placed her in the confident position to teach, advise and perform in all areas of advanced permanent make-up, including para-medical applications.  Permanent Makeup by Gwendoline is affiliated with local and international Plastic Surgeons, Dermatologists, Specialists and Medical Spa's.
"Throughout my career, I have remained committed to delivering excellence.  I have a deep passion for my craft and genuine care for my clients, which when teamed with the highest level of professionalism, my aim is to deliver unparalleled performance within the vibrant and ever-evolving world of permanent makeup."
Elegant 3D Microblade Eyebrows
Eyebrow obsession has taken the world by storm – creating individual 'hairs' using the microblade tool. This manual technique delivers the finest crisp hairline strokes within the PMU industry.  In this 2-day workshop, learn how to shape eyebrows correctly and perfectly place every hair stroke to create the most natural permanent makeup eyebrows possible.
Classes are available in major centers, where you will be shown how to easily and accurately create a beautiful and elegant brow shape, prior to applying the thin, crisp hair strokes.
Various Microblade starter kits containing an assortment of microblades, pens and various eyebrow tools are available
– giving you the opportunity to try all the blade sizes before deciding which microblades best suit your individual style.
For more information, details of what's included, as well as our online booking system: Advanced 3D Microblade Eyebrows
Thereafter, microblade stock and a wide range of related consumable items are available for purchase online at the E-shop.
On completion of my fully loaded 2-day hands-on practical course and having fulfilled your practice obligations, you will fully understand the microblade tool and will feel completely comfortable to include this option in your services menu. You will be confident to competently and safely perform this advanced procedure on your clients. I share industry secrets, best practice and many tips gained during my 20 years performing permanent makeup procedures at an advanced level.

"Applied using advanced Microblade techniques, my permanent eyebrows set a new standard in eyebrows in South Africa.  Instead of the bold, unnatural lines you may have been accustomed to, the Microblade technique applies the finest individual hair-strokes that follow the direction of the natural hair growth.  In turn, permanent eyebrows will appear multi-dimensional, incredibly realistic and beautifully shaped."
3D Microblade Eyebrow training
All microblade consumable items are available at the E-shop
Email us at

:  info@permanentmakeup.co.za or gwendoline@permanentmakeup.co.za
Our landline number is:  (011) 704-3086
Or complete online TRAINING REQUEST FORM
Manual MicroShading 
At this practical, hands-on 1-day class, you will learn the fine artistic technique of applying a simulated shadow effect layered behind Microblade hair strokes. We will work with a variety of different shading micro-needles demonstrating a smooth, even and seamless effect which delivers a fuller 3rd dimension to brow procedures.  This technique is especially valuable when applying eyebrows for clients who have very sparse or no natural brow hair as your clients will enjoy an ultra natural appearance once healed.  We will also touch on manually shaded eyeliners.
The Micro-Shading class is the perfect add-on taking your 3D Microblade Eyebrow procedures to the next level.  This training is specifically for students with previous Microblade Eyebrow or permanent makeup experience.
Advanced Eyeliners
Learn how to perfectly apply natural-looking, classical, designer eyeliners (with or without eye-shadow) or the new smokey eyeliners.  Master the art of French eyeliner and the increasingly popular and beautiful eyeshadow colour variations, mucosal fill as well as softly winged eyeliner, all with absolutely no pain and virtually no swelling or bruising.  
During this 2-day hands-on practical workshop, you will fully master eyeliner application, feel confident and understand the theory of pigment + melanin = end result.

Lip Procedures
Once you have attended this 2-day workshop, you will leave knowing how to effortlessly perform all lip procedures painlessly and with expert finesse, including the high definition lipline contour, lip blush, evenly filled full lip colour or the ombre lip procedure.
Discover how to employ my totally painless technique with absolutely minimal swelling and virtually no bruising – which equates to a happier client and quicker healing.
 
Microneedling/CIT
The 2-day practical microneedling workshop will enrich your understanding of the best acceptable protocols as well as the many treatable conditions (burn and surgery scars, wrinkles, pigmentation spots, stretch marks, skin rejuvenation, etc). Clients report a spectacular 40 – 50% average visible improvement after just 1 treatment! AKA Collagen Induction Therapy [CIT] is a highly effective and safe treatment for wrinkles, scars, stretch marks, enlarged pores, pigmentation and general skin rejuvenation.
Did you know that over 70 skin conditions may be successfully treated with microneedling?
Learn first-hand from one of Johannesburg's leading specialists to increase your confidence as you learn how to safely use a combination of high-tech devices as well as pre and post treatment protocols in this hands-on class.
 


"I am passionate about empowering fellow Technicians and sharing my knowledge to improve and perfect your procedures. I offer affordable hands-on advanced training for either a single or in a small group of a maximum of six in order to give each person maximum individual attention."
Scalp MicroPigmentation
Scalp micro-pigmentation is a highly advanced procedure which, in short – is the process of tattooing the scalp with tiny micro-dots in order to give the resemblance of stubble – a short buzz-cut appearance which looks best when any remaining hair is kept really short. To the experienced practitioner, scalp micro-pigmentation is a relatively simple procedure, it is non-invasive and there is no down time.  We teach how to safely implant a specialized pigment (not a regular tattoo ink), how to match pigment colour to the existing hair colour (if any exists) or skin tone and how to design the hairline based on where it used to be.  Hundreds of micro-dots are then cautiously added to the scalp – focusing on the areas of thinning hair to create a seamless flow.  It is vitally important to be properly trained in this procedure to prevent creating 'splotches' instead of fine hair follicle simulation.  This procedure is suitable for men and for women who wish to gain the confidence of a full head of 'hair'.
The same process is used to camouflage a variety of head scars.  Learn how to use excellent numbing solutions, however, pain experienced is minimal as the pigment/needle penetration is specific.  While this can be a time-consuming procedure, it delivers a proven rejuvenated appearance, is an excellent alternative to costly hair transplants and is fast-growing in popularity.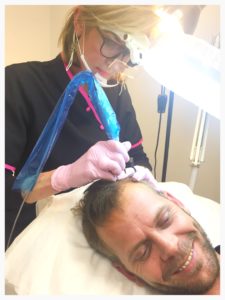 T&C's: Please note that local training is offered at our Johannesburg Studios. Regular training dates are arranged in other main centres (including internationally – on request by host salon). All training is at an advanced level to those with an eye for perfection and dedication to the practice required to excel.  While every effort is made to ensure that all topics for success have been covered (or are contained in the student manual) – it would be an unrealistic expectation to anticipate being able to perform procedures at an expert level prior to putting in considerable practice after completing short course training.  Candidates are requested to arrange own model/s, who will receive their procedure at greatly reduced price which assists towards covering the cost of needles, pigments, anaesthetics, stock and consumable items used, as well as to

ensure their scheduled model appointments are honored

.
International training in major centres available on request.
Certificates are presented – only after submission of 5 case studies as proof of competence and BBP compliance certification.
Book today
Call (011) 465-3117
Online booking:
https://permanentmakeup.co.za/permanent-makeup-training-2/
Facebook:
http://www.facebook.com/PermanentMakeupbyG
Website:
www.pmutraining.co.za
E-mail:    gwendoline@permanentmakeup.co.za  OR  info@permanentmakeup.co.za
International Copyright laws apply to all content, information, pictures and may not be copied or reproduced in any way without prior written permission.